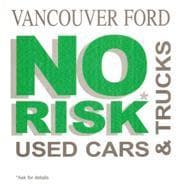 30 Day Exchange Policy*
You may at your option exchange the used Car/SUV/Truck that was purchased for a used vehicle of equal or greater value within 30 calendar days of the date of the original delivery date. At your request you will receive in trade, the full purchase price excluding tax and license against the non-discounted price of any vehicle in stock.  A tax credit will be automatically calculated.
You will have to qualify for financing with respect to satisfying any payoff or deficiency on the vehicle you wish to exchange. You have the ultimate responsibility to provide a clear title to Vancouver Ford/Hyundai Inc.
You will not be reimbursed for any time or money spent on any repairs, maintenance or improvements of the vehicle you wish to exchange.
Only vehicles that qualify for and for which an extended service plan or vehicle service contract has been purchased by you will qualify. In the event of exchange any unused service plan premium will be refunded 100%.
The vehicle must be in comparable condition when traded as it was when acquired.
Only one thirty day exchange can be exercised per customer.